Spice up Your Shopping List: Announcing Kipper Snacks with Cracked Black Pepper
We've taken our popular hardwood-smoked fish known as kippers and added cracked black pepper to kick things up a notch. Ready to eat and packed in pull-top cans, Kipper Snacks with Cracked Black Pepper are a tasty source of omega-3 fatty acids.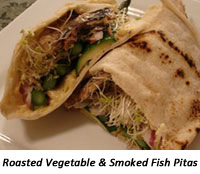 Available nationwide this month (May 2012), these new kipper snacks are wild-caught off the east coast of Canada by sustainably managed fisheries. The Marine Stewardship Council is currently assessing the area of their harvest, so we eagerly anticipate being able to add the MSC logo to all of our kipper snacks later this year.
What's a kipper, anyway?

The term "kipper" has long referred to herring that has been split, brined, and cold smoked over hard wood. Herring is a mild white fish that provides an excellent source of protein and has been enjoyed throughout the Northern Hemisphere for centuries.