Savory Wild Salmon-Dill Cheesecake
1 can Crown Prince Natural Smoked Alaskan Coho Salmon, drained and flaked
1/4 cup plain dry bread crumbs
24 ounces cream cheese, softened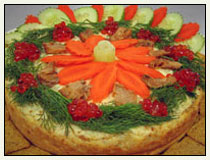 3 large eggs
1/2 cup sour cream
2 tablespoons all-purpose flour
1 1/2 teaspoons zested lemon rind
1/4 teaspoon salt
1/4 teaspoon black pepper
6 green onions, thinly sliced
2 tablespoons chopped fresh dill
1 tablespoon capers, rinsed and chopped

Garnish:
1 can Crown Prince Natural Smoked Alaskan Coho Salmon, drained and flaked
1 jar Alaskan Coho Salmon Caviar
dill sprigs
Preheat oven to 325°F. Grease bottom and sides of an 8" springform pan with butter. Add bread crumbs; tilt and rotate pan to cover bottom and sides with crumbs. Set aside.

Beat cream cheese in a large bowl on medium speed until smooth. Beat in eggs, one at a time, until blended. Beat in sour cream, flour, lemon zest, salt and pepper until combined. Stir in salmon, onions, dill and capers. Pour into prepared pan and smooth top.

Place pan in the oven and bake for 40 minutes or until center is just set. Remove pan to a wire rack and cool completely. Refrigerate covered until ready to serve. Shortly before serving, remove sides of pan and place cheesecake on a serving plate. Arrange dill sprigs, salmon and caviar around edge like a wreath. Cheesecake may be displayed whole or cut into wedges. Serves 16.

NOTE: Serve with crackers and cucumber slices.
Per Serving: 222 Calories (156 Calories from Fat), 18g Fat, 11g Protein, 5g Carbohydrate, 102mg Cholesterol, 359mg Sodium

Print Recipe
Share on Facebook